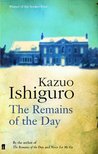 The Remains of the Day
by
Kazuo Ishiguro
My rating:
4 of 5 stars
Published by Faber and Faber
Bought @ Kindle Store, Amazon.in
Sometimes you pick the best of a novelist on the first go, and it spoils you for the rest of his works. I read Ishiguro's "Never Let Me Go" first. It was such a beautiful book, that I loved it despite its depressing theme. I read "When we were orphans" next and I could not bring myself to like it much.
"The Remains of the Day" reads like the diary of a butler, Stevens, who has served at a great house, Darlington Hall, for many years. His former employer figured prominently in the political events leading up to the second world war. Lord Darlington died and the estate was purchased by an American Mr. Farraday.
A letter by a former female colleague of Stevens, Miss Kenton, sets Stevens off on a road trip through the countryside. His ostensible purpose is to see if Miss Kenton would like back her job as a Housekeeper of Darlington Hall. During the course of the journey, as we get deeper into the head of Stevens, we discover that the true purpose of the visit could be some hidden emotion in the heart of a seemingly cold and professional butler.
The story unfolds gradually, in a series of related incidents that move forward and backward in time. It is beautifully written, as are all the books of Kazuo Ishiguro, at least the ones that I have read.
The emotions that Stevens experiences are so understated that they are in the danger of being passed over by a reader in a hurry. As the book is in the first person, and Stevens is a taciturn man, the emotions cannot be conveyed in a direct manner. I felt that the book would be best made into a movie, where the expressions of the actors could speak louder than words.
It was made into an acclaimed movie, by the accounts of it. I have not seen the movie, though I am very eager to do so. I can only imagine how good Sir Anthony Hopkins can be in the role of the stiff-necked Butler who refuses to give in to his emotions.
View all my reviews